With a global perspective, we offer quality education at ECC.
ECC is not an ordinary language school. Since its founding 44 years ago, ECC has been fostering not only practical foreign language education but various activities with global perspectives such as the ECC Save-the-Earth Campaign. Our definition of a true international person is one who can feel other people's problems as his or her own, and is willing to share these problems. We would like to produce students who are free from selfishness and greed and who can devote themselves to creating a better future for the generations to come.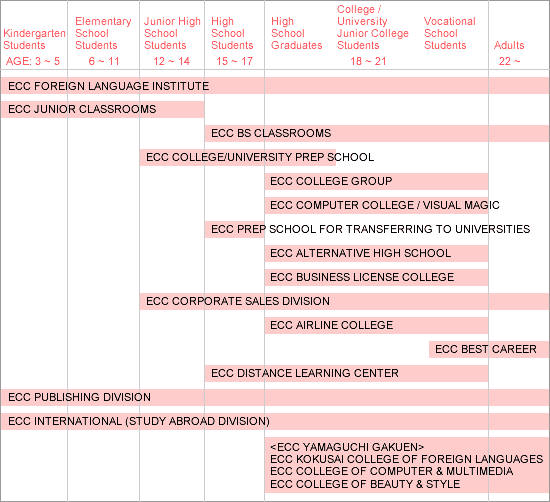 ECC as a comprehensive educational organization

Our aim is to provide pre-school children, elementary school students, junior and senior high school students, college/university students, and adults with the kind of education which may help them become productive members of global society.


ECC as a unique multi-educational enterprise
Our aim is to educate and produce globaly minded people. Therefore we offer the most appropriate courses to meet the needs of people of all ages, from nursery school children to adults.